Auto Financing Options in Weymouth, NS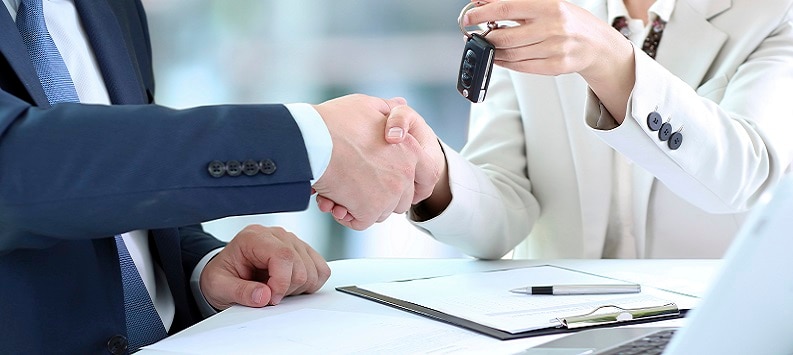 Welcome to the Finance Department. Here you can use our online form to get a quick and accurate response on financing your next vehicle. Your financing information is encrypted in a super-safe digital format and is never sent through E-Mail.
Optimizing for Auto Financing
Clare Dodge is the best-rated Dodge dealership in Nova Scotia, serving Weymouth, Digby, Yarmouth and Bridgetown. Our customers overwhelmingly praise our low prices, friendly service, and great coffee.
Not only is Clare Dodge a great place to buy and service your car, but we're also a great place to finance your vehicle. Not only do we offer the best car loan rates, but we also offer flexible, customizable loan plans, which will save you time and money.
Getting the Best Rates and Service on Your Dodge & Jeep Car Loans
Your loan rate depends on your credit rating. The two main credit bureaus - Equifax and TransUnion - collect information from creditors all over Canada and use it to create credit profiles of individuals. They rank you on a scale of 300 to 900, based on factors such as how much of your credit you're using, how often you make your payments on time, and whether you have any unpaid debts in collections. A 650 or above score makes you look like a reliable borrower and makes it easier to get the best car loan rates.
You can apply for a loan by filling out a credit application form. The lender will need identifying information such as your name, address, and phone number. Although it's not legally required, providing your Social Insurance Number can expedite the process. Your lender will also need information about your income, assets, and debts. Clare Dodge offers an online credit application form that can be completed in the comfort of your own home and save you up to two hours at the dealership.
Finance Form
* Indicates a required field
Your privacy is important to us.
Clare Chrysler Dodge Jeep Ram takes your privacy seriously and does not rent or sell your personal information to third parties without your consent. Read our privacy policy.
Hours
Monday

8:00am5:00pm

Tuesday

8:00am-5:00pm

Wednesday

8:00am-5:00pm

Thursday

8:00am-5:00pm

Friday

8:00am-4:30pm

Saturday

9:00am-12:00pm

Sunday

Anyday After Hours By Appointment
Car Loan Rates and Staying on Budget
Dodge & Jeep Car Loans are available at a range of rates and payments, depending on your credit rating, down the amount, vehicle price, and loan term. To stay on budget, you need to figure out what size loan payment you can afford before you begin negotiations. Knowing your price will allow you to understand what sort of car you can afford and on what terms. From there, you can talk to the dealer to figure out what combination of model, options, dealer incentives, and loan terms will get you the car you need for a payment you can afford.
Frequently Asked Questions (FAQs)
Can I refinance A New Car loan?
Yes, you can refinance any car loan - so long as you qualify. A lender will evaluate an application to refinance in pretty much the same way that it will a new loan application. If you have the correct credit score and income, you may qualify to refinance regardless of the loan's age and the car's age. One thing to be careful of, however: if you owe more on the vehicle than its lender-estimated value, you may not be able to refinance until you've paid down the loan some more.
How to get a new car loan with bad credit?
Some lenders specialize in loans to borrowers with bad credit! These loans are available, but you need to scrutinize them for potential drawbacks. Some may charge a higher interest rate to "subprime" borrowers or have more stringent income verification requirements.
Can I get a new car with an existing loan?
Yes, you can trade-in your current car and roll your old loan into the new one. In exchange for your trade-in value, you get a reduction in the amount of your new loan.
What is considered a new car for a loan?
New car loans in Weymouth and other towns may offer advantages such as lower rates, cashback offers, and additional dealer incentives. Technically speaking, a new car is one that has never been registered to a buyer. A demo model-driven for a few thousand kilometres may still be considered new for these purposes. In contrast, a registered car and then immediately returned would be categized as a used vehicle.
Contact Us Today!
For more information, contact us at Clare Dodge. You can fill out our secure online financing application through our financing Centre from your home's comfort with our "shop from home" tool. Check out our Dodge and Jeep car loans and our wide range of products today! We look forward to hearing from you.