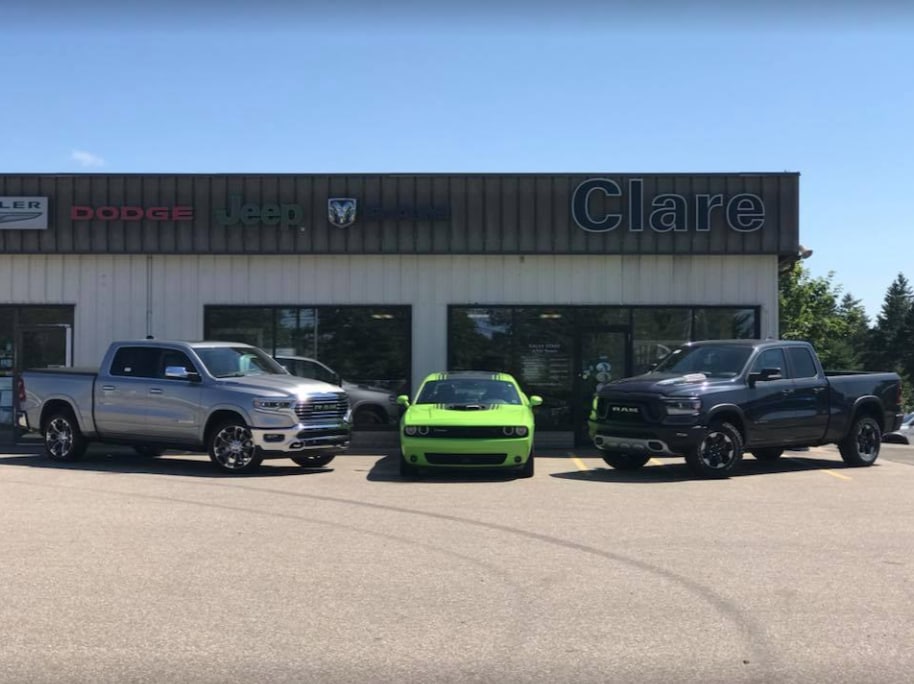 Clare Dodge Chrysler Limited: The Highest Rated Dodge Dealer in Nova Scotia

At Clare Dodge Chrysler Limited, located at 3640 Highway 1 Weymouth, Nova Scotia, we take the utmost pride in providing our customers with the highest level of customer excellence. Our drive to make sure that everyone who steps foot on the property is treated like family is our number one priority. The service we provide to you needs to be exceptional at everything single touchpoint, and we strive to create an environment where there is the minimal effort required from you and all efforts exerted by us. We want to make sure that any issues that arise are dealt with before the seed is planted, being specific, measurable, and creating attainable goals will help us provide superior service.
Due to all the processes and measurable metrics, we have put into place, we are currently the Highest Rated Chrysler Dodge Jeep Ram Dealership in all of Nova Scotia based on Google Star Ratings. We are designated as the Best Dodge Dealership in Nova Scotia and we take the highest regard for that title. We wanted to share some of our highlights with you so please have a look at feedback from our actual customers:
Marc
"Purchased my second new truck from Clare dodge yesterday and the service is just simply amazing compared to competitors I drive an hour and a half away from my home town to deal with these guys for a reason and it's not because I enjoy burning extra gas. I'm a really fussy guy and I do my research, not to mention I have priced trucks to every other dealer in Nova Scotia multiple times and I will save you the trouble of researching and shopping"
Make an Inquiry
* Indicates a required field
At Clare Dodge Chrysler Limited, we receive positive feedback from our customers often. So you might be asking yourself, "how do we do it?". Let's explore our service offerings to help you realize why we're the preferred dealership in Weymouth.
Clare Dodge Chrysler Limited-Sales, Service, and Parts
Every one of our Sales staff is trained and qualified to assist you will all your needs. They work extremely hard to focus their energy on each and every customer that walks through our doors. When they go home and night and rest their heads on a pillow, they are confident that they have provided the best customer service experience possible. The results, a good night's sleep!
Our service department is there to ensure that your vehicle is serviced in accordance with manufacturer standards. Our service consultants have built up knowledge over the years, and pride themselves in providing you with information and facts that are factual and easy to understand. If the problem is above their heads, they can rely on our extensively trained technicians for those specific and in-depth issues.
Feedback from our customers is vital so that we can continue to improve; you will find below an example of just that:
James Kyte
"Very appreciative of the repair we just had done there. We received friendly and convenient service asap, at a very reasonable price."
Candice Crosby
Friendly staff! Loved our experience and couldn't be happier with our purchase.
Working alongside our fantastic service department is our parts department. They are trained to provide the correct parts and on time. The fluidity between our parts and service departments is why our customers are always satisfied before you leave. We can service every vehicle in our line up like RAM trucks to the Jeep Wrangler and any off brands.
At Clare Dodge Chrysler Limited we offer a wide range of Jeep, Dodge, and Chrysler vehicles available for sale, and we are delighted to offer various auto financing options in-house please take a moment to complete our finance form, it's secure and will save you time at our dealership. If you are new to Clare Dodge, or are a returning customer, you're welcome to allow our trained technicians to maintain your vehicle. Our online service request form is painless and straightforward, so book your next service appointment with us, and our expert technicians will ensure you're vehicle needs are cared for. We also offer a wide selection of 2020, 2019, and used vehicles to Weymouth, Dartmouth, and Halifax. If you want to experience the best in engineering and customer service, please don't hesitate to contact us, and our courteous and professional consultants will be more than happy to assist you.
Hours
Monday

8:00am5:00pm

Tuesday

8:00am-5:00pm

Wednesday

8:00am-5:00pm

Thursday

8:00am-5:00pm

Friday

8:00am-4:30pm

Saturday

9:00am-12:00pm

Sunday

Anyday After Hours By Appointment