2022 Jeep Grand Cherokee L - Technology and Connectivity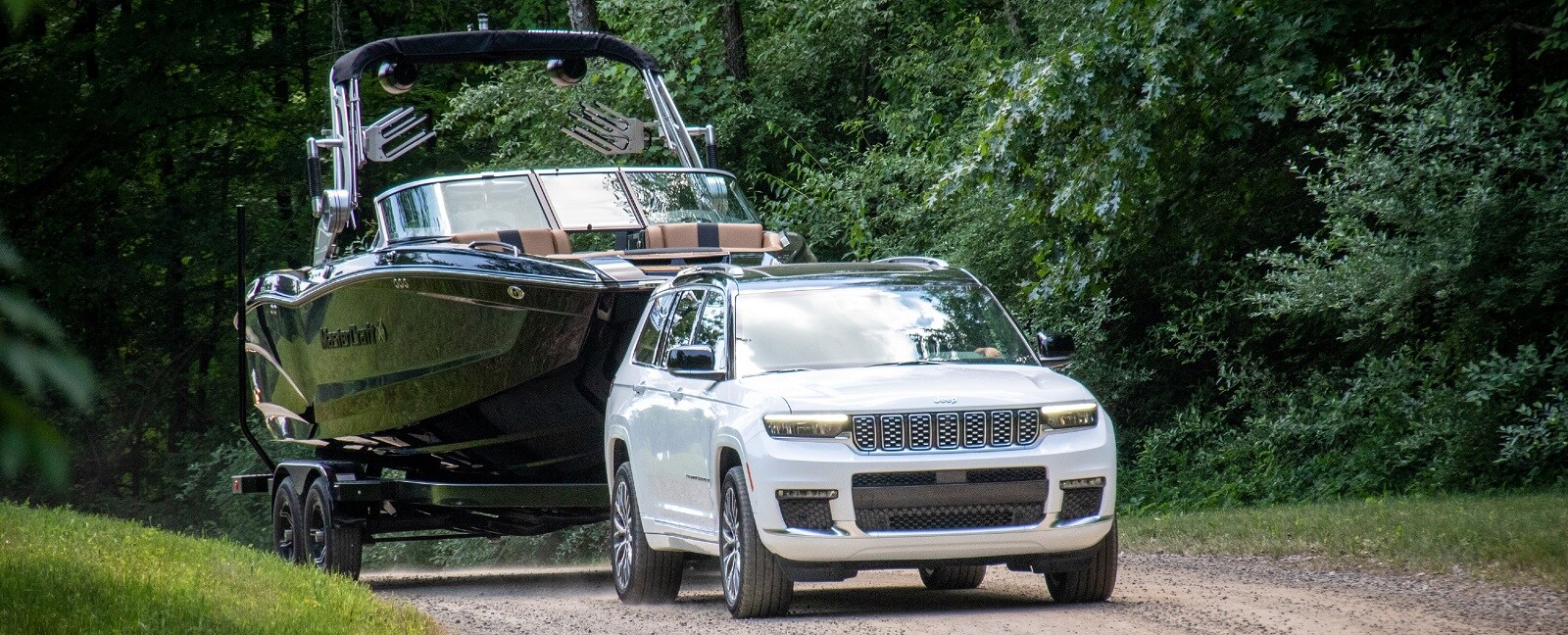 2022 Jeep Grand Cherokee L - Technology and Connectivity
The 2022 Grand Cherokee L is a large three-row SUV perfect for large families. Despite its large size, it performs well during adventures due to its excellent off-road capability and features such as an all-wheel-drive system and adjustable air suspension. The cabin is spacious, comfortable, and luxurious, though the level of luxury increases with the higher trims. The large SUV comes with two engine options with a smooth eight-speed automatic transmission. Browse our new inventory to find pricing and availability for the 2022 Jeep Grand Cherokee L at Clare Dodge, located in Weymouth, Nova Scotia.
2022 Jeep Grand Cherokee L Technology
The 2022 Jeep Grand Cherokee L dashboard has an easy-to-use integrated 10.1-inch advanced infotainment touchscreen with available real-time weather and traffic updates. The SUV comes standard with a six-speaker stereo, with a nine-speaker system and a nineteen-speaker McIntosh premium sound system available as upgrades. You can also get two 10.1-inch touchscreens with Wi-Fi connectivity and Amazon Fire TV for the rear seats, located at the back of the front seats on the premium models of the Grand Cherokee L.
2022 Jeep Grand Cherokee L Connectivity
Front and rear passenger screens also feature the innovative Uconnect 5 system. The Uconnect5 system is advanced and user-friendly, making it enjoyable to use. Uconnect5 allows you to set up to five user profiles to enable different references, settings, and home menus. Quick access is prioritized where only two clicks of the icons get you where you want. Dual connectivity is available where you can connect two devices at once using Bluetooth. Alexa is available, providing a virtual assistant allowing you to interact with the system easily. Uconnect also comes with Apple CarPlay and Android Auto as standard. Other system features include online updates, connected services, and navigation. You will be notified of servicing and maintenance requirements through on-board messaging.
Finance With Us!
Are you interested in purchasing your own 2022 Jeep Grand Cherokee L? We can help! At Clare Dodge, we pride ourselves on offering our customers competitive financing solutions. Visit our online finance centre to learn more about our payment plans and options. Also, take advantage of our trade-in program, which offers guaranteed value for your used car. 
2022 Jeep Grand Cherokee L in Weymouth, Nova Scotia