2021 Jeep Gladiator Diesel For Sale in Weymouth, Nova Scotia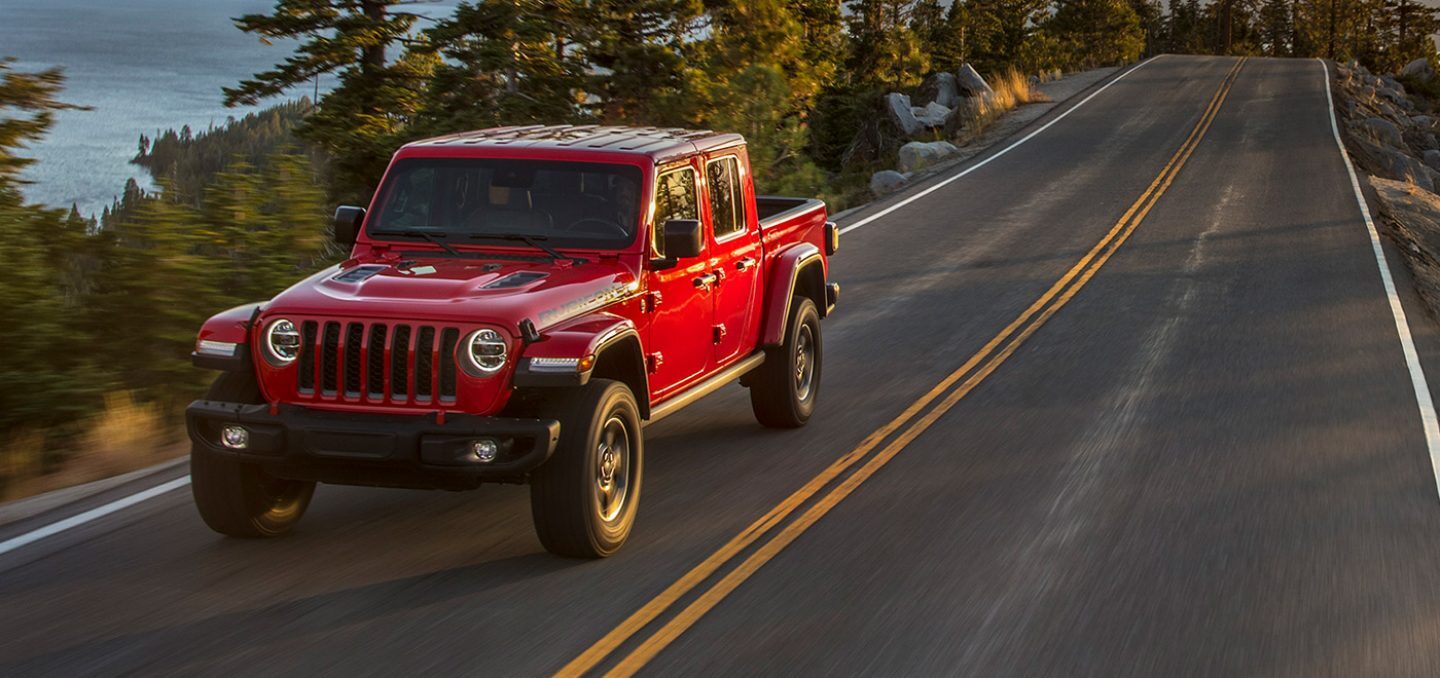 2021 Jeep Gladiator Diesel For Sale in Weymouth
When shopping for your new Chrysler, Dodge, Jeep or Ram vehicle, you want to purchase from a dealership that understands your needs. As the number one rated Jeep dealership in Weymouth, Nova Scotia, Clare Dodge serves Digby, Yarmouth, and their surrounding areas. Our friendly staff waits to assist you during your search of our new inventory of Chrysler, Dodge, Jeep or Ram. Your sales professional will stay with you during the entire purchase, including financing and maintenance support.
2021 Jeep Gladiator Diesel Overview
The 2021 Jeep Gladiator Diesel is a strong and tough pickup truck made for the off-road experience. It has the look and feel of a heavy-duty pickup but does more in the area of off-road capability. The truck's exterior has a strong-looking front end with a distinctively designed grille and circular headlights to pierce through brush and water. Large tires contribute to bypassing all types of terrain, including rocks, stones, mud, dirt and more. The cabin seats five passengers who enjoy its removable door and rooftop experience. As a diesel-operated Gladiator, you can travel farther and longer with improved fuel economy than the standard engine.
2021 Jeep Gladiator Diesel Interior
Occupants will enjoy cloth upholstery, manually locked doors and manual windows. Higher trims offer power windows and locks. A wash-out interior with drain plugs is included to protect the flooring of the Gladiator Diesel. Automatic climate control will keep the temperature consistent in the cabin and aid in Gladiator Diesel's fuel efficiency. Also, the eight-speaker audio system will project the quality sound of music and entertainment during travel. The Premium Alpine Sound System is available on higher trims. Leather seating is available and is complemented with the leather steering wheel. The five-seat cabin is comfortable for average-sized adults.
2021 Jeep Gladiator Diesel Exterior
The exterior of the 2021 Jeep Gladiator is designed as a fun-loving pickup truck. Its 7-slot grille is centred between two round LED headlamps. There are bright directional lights and available fog lights that sit on the front bumper. A foldable windshield and removable doors add to the outdoor fun experience. A 5-foot bed is available to transport outdoor equipment like tents, kayaks, coolers and more. The cargo bed features a lighting system to aid in its enjoyment at night. The squared edges are what make this truck unique. The steel wheels are flanked with fender flares and all-terrain tires. Larger tires are available on higher trims, such as the 17-inch alloy wheels and 33-inch Falken all-terrain tires, which are standard on higher models. Body-protecting rock rails and skid plates are standard on higher trims to protect the bodywork while off-roading.
2021 Jeep Gladiator EcoDiesel Towing Capacity
The Gladiator Diesel offers the 3.0 L V6 diesel producing 260 horsepower @ 3,600 rpm with 442 lb-ft of torque @ 1,400-2,800 rpm, allowing It to tow about 6,000 pounds safely around Canada. With this power and towing capacity, less stress and strain are put on the Gladiator, providing better fuel economy.
2021 Jeep Gladiator Diesel Safety
There are moments when a perfect park is needed, so Jeep makes available rear parking sensors to aid the driver by alerting the proximity of obstacles. Forward-collision mitigation alerts the driver of any pending hazards, whether on- or off-road. To assist in mitigating a crash, the Gladiator Diesel may apply the brakes automatically. Selec-Speed Control adds to the driver's experience as it operates like an off-road cruise control feature. As the Gladiator travels on Nova Scotia's highways, Blind-spot Monitoring is an available feature that will protect against a sudden lane change due to a vehicle travelling in its blind spot.
2021 Jeep Gladiator Diesel Technology
The new Gladiator has an infotainment system that is Apple CarPlay and Android Auto compatible. Although the base model offers a 5-inch display, there is a 7-inch and 8.4-inch infotainment display available on higher trims. Occasionally, the sharpness of headlights reflected from the interior rearview mirror may temporarily blind the driver, causing them to lose focus. So Jeep adds the auto-dimming rearview mirror that uses a series of sensors to dim the brightness instantly. Automatic headlights have made their way as standard on higher trims. The headlights will toggle between high and low beam, dependent upon the proximity of approaching vehicles.
Financing Options
If you are interested in taking advantage of some of the low-interest financing offered by Clare Dodge, contact our Finance Centre and complete our online financing application to get pre-approved. Contact Us today, and let's get you on your way to the all-new 2021 Jeep Gladiator Diesel.
Make an Inquiry